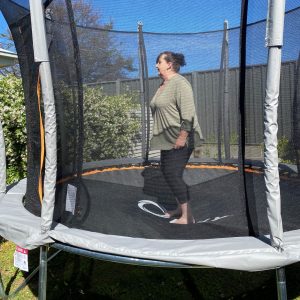 Sometimes, all it takes to get a big smile from someone is giving them the opportunity to feel the freedom of the wind in their hair, the springs beneath their feet and the weightlessness of gliding through the air.
That gift of joy is exactly what Australia's leading outdoor play equipment company, Vuly Play, gave to our DSA participants in Taralga, NSW, when it donated this amazing trampoline to our local independent living home.
At our homes, people with disability are provided with the assistance they need to live their lives to the fullest and experience true independence.
Krystal and Leanne, two of our participants at Taralga, have welcomed the addition of their new outdoor equipment, using it in exercise and play.
"Our two participants, Krystal and Leanne, are enjoying it so much, and their quality of life has improved, just by this one donation," says site manager, Kristy Mellor.
"They have been able to use the trampoline to reduce stress and anxiety and have had lots of fun on many occasions since its arrival – it's a great outlet. A huge thank you to Vuly for your generous gift!
DSA has many community and business partners that support us, Vuly Play proactively reached out to our organisation to look for an opportunity to help a family or individuals who might benefit from their equipment.
With over 80 homes, DSA contacted our network of site managers to invite expressions of interest, so we could determine where a brand-new trampoline might be of most value to our teams and participants.
Now, when the days in beautiful Taralga are sunny, but the air is crisp or chilly, you'll find our participants outside, working up a sweat and a belly full of giggles as they jump for joy right in their own backyard.
Disability Services Australia would like to extend our sincerest thanks to Vuly Play. To most, this is a trampoline, to us, this is smiles, laughs and pure joy!
Learn more about Vuly Play – https://www.vulyplay.com/en-AU