'The benefits of a healthy, positive mindset'
Supported Employee Andy is a bit of a Braemar icon, as he is well respected and liked by all of the customers and staff. Andy prides himself on an appreciation for the simple things in life and maintaining what he has. For five years now Andy and Employment Consultant Stephen have been working together, two like-minded people working to be the best they can at work and personally.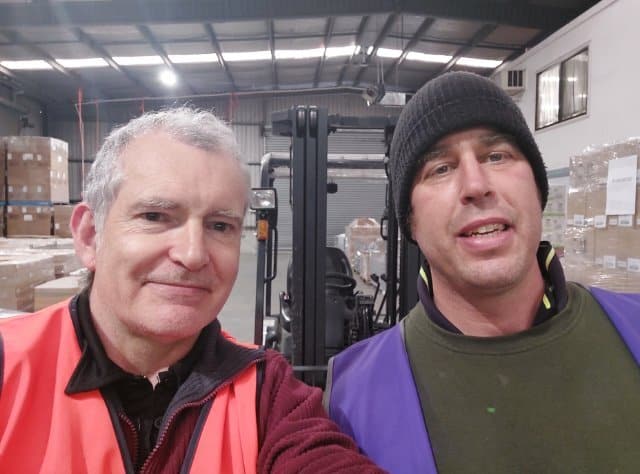 Andrew 'Andy' Kalnin
I found out about DSA and Braemar from someone I used to work with. It sounded like a good opportunity to work and develop my skills professionally.
Working with Stephen is great, the more I've worked with him the more you see the things he does day to day to make our lives easier and the floor run smoothly. He is always running training or making follow up calls, or updating Covid safe protocols, just the things we need to operate well. He also treats everyone equally, he is professional but friendly, working with support staff like that makes work an enjoyable place to be.
I really care about health and fitness, that's something that Stephen and I have in common. I used to go to the gym, and I hope to get back into a fitness rhythm once I get over some current pain.
I'm planning on doing some regular walking soon, which should benefit me mentally and physically, Stephen and I have spoken about how important a routine is when it comes to fitness, it's good to talk to someone who gets it. I'm not only interested in doing sports, I like to watch them too, I watch the NRL, and I'm a South Sydney supporter. Many years ago, I went to Wests Tigers games when I lived in Campbelltown.
I also enjoy TV, I like to watch a lot of 9 Life, especially home renovation and dream home shows.
Another thing that is important to me is spirituality, I have Christian beliefs and regularly attend C3 Destiny Church at Bowral. ​​​​​​​
At Braemar where I work, I mainly drive the forklift and I'm also always ready to help out on any job. People find me friendly and easy-going; I would say I'm a good team-player.
DSA has helped me develop work skills, personal confidence and character and helped me achieve my financial goals. Last year I financially supported a charity in Zimbabwe. I am proud that I was able to do that.
Things don't always go to plan at work, and that's okay, Stephen and the team help me work through and manage my stress levels day to day, I think that's part of anyone's job. We had a batch of deodorants in not that long ago and one of them was called 'Stress', we joked that we need a palette of that!
My priority at present is maintaining overall wellbeing, as I take each day as it comes. A challenge for me is maintaining good mental health. Focusing on my job and doing well at work is beneficial for my mental wellbeing. I'm generally focused, positive and I like helping people; I always work to maintain that as a focus in my life.
I like to push my comfort zone to achieve my best. I'm motivated to do my best in whatever I put my mind to.
I am always wanting to improve because I believe that helps people around me. I want to work on fine tuning my skills where I can and be better.
Stephen Corry
Working with Andy is always a pleasure, as I'm drawn toward positive people. Andy impressed me with his kind, thoughtful nature, along with his dedication and commitment to teamwork. I also noticed that he is always grateful for any support, training, or guidance – from both me and other staff. It's a pleasure to work with someone who is willing to learn and always wants to do better. He plays an important part in promoting a positive environment for everyone at the site.
I transferred to Braemar five years ago and have settled in well since then. Working with supported employees like Andy makes my job easier as I know we have the same values and priorities at work. Our staff are so appreciative of his hard work and assistance in so many ways.
From the first day I noticed that Andy was respected by everyone and well liked on the floor. As we've continued to work together, I can see why. He is always going the extra mile to do good job and be a good employee.
Working together for five years now, I've learnt a lot about Andy. When we get a moment to chat, which is not often because he is always on the go, we share a love of live music, fitness, and wellbeing which we talk about and share tips on. I'm often seeing gigs and fill Andy in on what I've seen. Just a few weeks ago I saw a Bon Jovi tribute band. Andy is always happy to share his ideas of his fitness routine and ways he stays consistent and focused.
I would say Andy's commitment to his overall wellbeing and his positive mindset have consistently helped him maintain high standards of performance and great workplace relationships, as well as just making him a good person.
Andy would say he needs to improve and fine tune his skills, but he is hard on himself.
His performance makes him a star employee, I could rave on about his performance and the way he manages himself in his role, he is an asset to us at DSA.